Submitted by

chandra

on Mon, 2023-05-01 11:46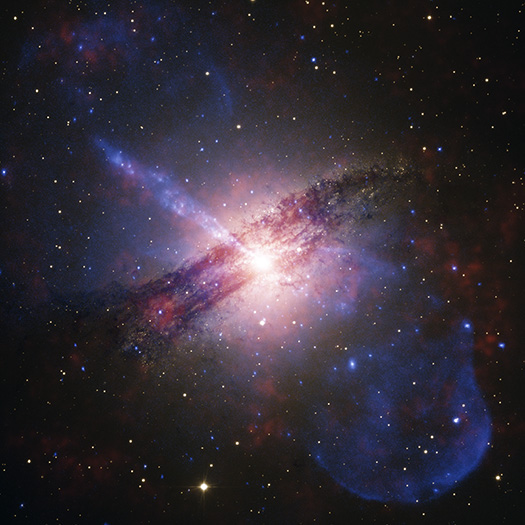 Centaurus A
Credit: X-ray: (IXPE): NASA/MSFC/IXPE/S. Ehlert et al.; (Chandra): NASA/CXC/SAO; Optical: ESO/WFI; Image processing: NASA/CXC/SAO/J.Schmidt
The galaxy Centaurus A (Cen A) shines bright in this image combining data from multiple observatories. In the center of this galaxy is a supermassive black hole feeding off the gas and dust encircling it, and large jets of high-energy particles and other material spewing out. The jet shown at the upper left of this image extends for about 13,000 light-years away from the black hole. Also visible is a dust lane, wrapping around the middle of the galaxy, which may have resulted from a collision with a smaller galaxy millions of years ago.
Colors in this image have been chosen to reflect the sources of data. Blue shows X-ray light captured by NASA's Chandra X-ray Observatory, orange represents X-rays detected by NASA's Imaging X-ray Polarimetry Explorer (IXPE) satellite, and optical light seen by the European Southern Observatory in Chile is colored white and gray.
Submitted by

chandra

on Wed, 2023-04-19 16:27
We welcome Ian Brunton, a research scientist currently at NASA Johnson Space Center in the Astromaterials Research and Exploration Science Division as our guest blogger. In this post, he describes his team's work below on the effects that a nearby supernova may have on an Earth-like planet and its biosphere. Ian first became involved with this area of research as an astronomy student of Brian Fields at the University of Illinois. He will soon be continuing his academic studies as a PhD student at Caltech in the Division of Geological and Planetary Sciences.
Much has been said about the extraordinary advancements throughout the field of astronomy, particularly regarding the innovative ways in which we can now observe the universe across the electromagnetic spectrum. Chandra has of course been one of the instruments at the forefront of this exploration for the last couple of decades, illuminating the universe in the X-ray band. These new ways of looking at our universe have served to confirm, alter, or entirely upend our prior notions of certain astrophysical processes.
What I personally find most intriguing is how these new observations can then be integrated into the knowledge and pursuits of other scientific disciplines, be it planetary science, atmospheric chemistry, geology, etc.
One of the most fascinating processes (if I may say so myself…) that orbital X-ray telescopes are especially handy for are supernovae, i.e., exploding stars! I'll elaborate a bit on exactly why below, but first, some background on nearby supernovae and Earth is needed since our project really builds upon a lot of previous work in the field.
Everyone loves a good astronomical explosion, and supernovae — typically characterized by the wondrous spectacle of their initial outbursts — are some of the best explosions in the known universe. In the blink of an eye, these monstrous events can outshine the entire combined output of stars in a galaxy, launching neutrinos, photons, and stellar material out into the abyss of the interstellar medium.
Submitted by

chandra

on Wed, 2023-04-05 10:58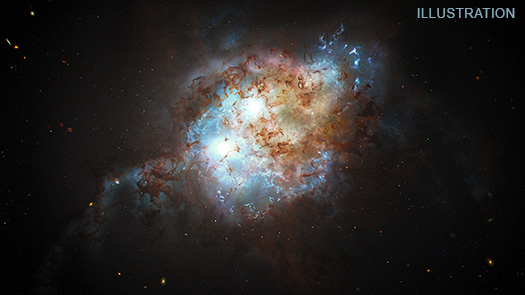 Artist's Illustration of Dual Quasar J0749+2255
Artwork Credit: NASA, ESA, Joseph Olmsted (STScI) Science Credit: NASA, ESA, Yu-Ching Chen (UIUC), Hsiang-Chih Hwang (IAS), Nadia Zakamska (JHU), Yue Shen (UIUC)
Quasars are among the universe's brightest fireworks. Scattered all across the sky, they blaze with the opulence of over 100 billion stars. And, like a brilliant July 4th aerial flare, they are dazzling for a relatively brief time — on cosmic timescales. That's because they're powered by voracious supermassive black holes gobbling up a lot of gas and dust that gets heated to high temperatures. But the quasar food buffet lasts only so long.
This fleeting characteristic of quasars helped astronomers find two quasars on a collision course with each other. They are embedded inside a pair of galaxies that smashed into each other 10 billion years ago. It's rare to find such a dynamic duo in the far universe. The detection yields clues as to how unsettled the cosmos was long ago, when galaxies more frequently collided and black holes were engorged with flotsam and jetsam from the close encounters.
Submitted by

chandra

on Tue, 2023-03-28 10:18
NGC 253
Credit: X-ray: NASA/CXC/The Ohio State Univ/S. Lopez et al.; H-alpha and Optical: NSF/NOIRLab/AURA/KPNO/CTIO; Infrared: NASA/JPL-Caltech/Spitzer/D. Dale et al; Full Field Optical: ESO/La Silla Observatory.
On Earth, wind can transport particles of dust and debris across the planet, with sand from the Sahara ending up in the Caribbean or volcanic ash from Iceland being deposited in Greenland. Wind can also have a big impact on the ecology and environment of a galaxy, just like on Earth, but on much larger and more dramatic scales.
A new study using NASA's Chandra X-ray Observatory shows the effects of powerful winds launched from the center of a nearby galaxy, NGC 253, located 11.4 million light-years from Earth. This galactic wind is composed of gas with temperatures of millions of degrees that glows in X-rays. An amount of hot gas equivalent to about two million Earth masses blows away from the galaxy's center every year.
NGC 253 is a spiral galaxy, making it similar to our Milky Way. However, stars are forming in NGC 253 about two to three times more quickly than in our home galaxy. Some of these young stars are massive and generate a wind by ferociously blowing gas from their surfaces. Even more powerful winds are unleashed when, later in their relatively short lives, these stars explode as supernovae, and hurl waves of material out into space.
Pages
Disclaimer:
This service is provided as a free forum for registered users. Users' comments do not reflect the views of the Chandra X-ray Center and the Harvard-Smithsonian Center for Astrophysics.
Please note this is a moderated blog. No pornography, spam, profanity or discriminatory remarks are allowed. No personal attacks are allowed. Users should stay on topic to keep it relevant for the readers.
Read the privacy statement