Submitted by

chandra

on Wed, 2020-06-17 17:52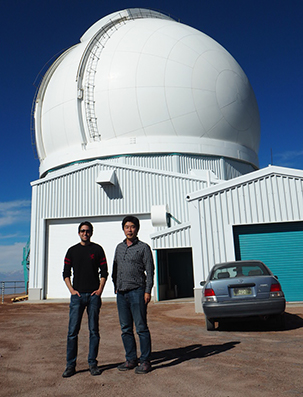 David Principe and Kenji Hamaguchi
As our guest blogger, we welcome Kenji Hamaguchi of the Center for Research and Exploration in Space Science & Technology and NASA's Goddard Space Flight Center in Greenbelt, MD. He is part of the team that made the discovery described in our latest press release on an X-ray flare from a very young Sun-like star.
The observatory dome appeared over the hill. "Where is it standing?" I mumbled to myself. The Southern Astrophysical Research (SOAR) Telescope stands at the dead-end of a mountain ridge. The road just before the observatory has a bottleneck with steep slopes on both sides. The dome looked as if it were standing on the head of a spear. The telescope is a part of the Cerro Tololo Inter-American Observatory in Chile, along with the Gemini South observatory, and the Vera Rubin Observatory (formerly the LSST), which is now under construction. David Principe and I had come to the SOAR observatory in mid-December 2017, to take images of the extremely young star ("protostar") HOPS 383 at near-infrared wavelengths.
The observation we were undertaking was conducted in coordination with an observation of the same protostar with NASA's Chandra X-ray Observatory. The Chandra observation aimed to find any sign of high-energy (X-ray) radiation from this newborn star. In contrast, the SOAR observation was designed to monitor the current status of an outburst from HOPS 383 that peaked in 2008. We planned to deepen the understanding of its nature by combining these two observing techniques.