Submitted by

chandra

on Tue, 2020-10-13 13:08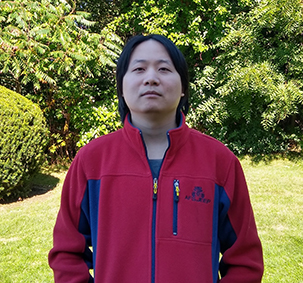 Shifu Zhu
Shifu Zhu, a 5th-year graduate student of Astronomy & Astrophysics at Pennsylvania State University, is our guest blogger for this post. He received his B.S. in Astronomy from the University of Science and Technology of China (USTC) in 2013. He received his M.S. in Astrophysics from USTC in 2016.
"So, the answer to the nature of the X-ray emission from radio-loud quasars is simpler than we previously had thought," I said to myself after staring for a while at our new correlations between how bright radio-loud quasars are in X-ray and ultraviolet light.
The term "quasar" was originally coined for bright radio sources that look like stars in visible-light images, i.e., quasi-stellar radio sources. Shortly after their discovery, researchers realized that quasars are supermassive black holes (with masses of millions to billions of times that of the Sun) feeding on material that is gravitationally attracted to them. Notably, despite this strong gravitational attraction, some material can also be ejected in powerful jets, narrow streams of material shooting away from the supermassive black hole in opposite directions. These jets are fueled by material in an "accretion disk" falling towards the black hole.