Submitted by

chandra

on Thu, 2017-04-06 16:54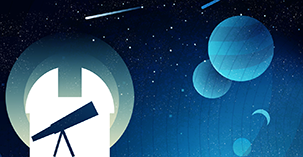 Illustration: NASA/CXC/K.DiVona
(A continuing series on how astrophysicists' varied career paths. Pathways to the Stars -- II)
Our blogger today is Dr. Wallace Tucker, who has worked on the Chandra project since its inception and has been involved with high-energy astrophysics for several decades. In one of his many roles, Wallace has served as the Chandra Science Spokesperson, helping non-experts understand and enjoy the amazing discoveries Chandra makes. He is the author of several popular books including one published by Smithsonian Books.

How did you get to be an astrophysicist working with the Chandra X-ray Observatory?
This is a question that almost all of us who work with Chandra get asked at one point or another. Apart from cocktail party conversation — not that astrophysicists go to that many cocktail parties, in my experience — the answer is relevant in terms of ongoing efforts to increase the number of young people seeking careers in science, technology, engineering and mathematics.
And, on the principle that "none of us is as smart as all of us," it is important for maximizing the scientific return of Chandra to get as many people involved as possible. Think about it: some of the bright young minds working on Chandra data today were in elementary school when Chandra was launched!