New Chandra Operations Control Center Opens
Submitted by

chandra

on Mon, 2019-06-10 13:43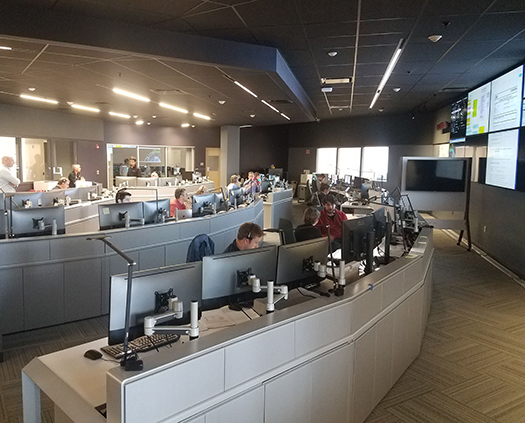 Chandra's New Operations Control Center
A new state-of-the-art facility that will operate NASA's Chandra X-ray Observatory has opened. This new Operations Control Center, or OCC, will help Chandra continue its highly efficient performance as NASA's premier X-ray observatory.
As the name suggests, the OCC controls the operation of the Chandra spacecraft while it is in orbit, as scientists and engineers design plans for efficiently and safely observing its targets.
Two years before Chandra's launch into space in 1999, NASA awarded the Smithsonian Astrophysical Observatory a contract to establish the first OCC as part of the Chandra X-ray Center, under the direction of NASA's Marshall Space Flight Center. Northrup Grumman was and continues to be a prime contractor for Chandra, employing many staff members at the OCC.
The first OCC was in a Draper Laboratories building in Cambridge, Mass. Draper decided to expand and not renew the OCC lease due to their own company growth. A location for a new OCC was found in Burlington, Mass., about 10 miles north of Cambridge.
"It is not a simple move since the activities of the OCC are very complex," said Scott Wolk, one of Chandra's Flight Directors. "We have to consider security, technical and infrastructure requirements, and ultra-high-speed communications."
The OCC is in contact with the Chandra spacecraft (which is in a highly elliptical orbit around the Earth) about three times per day via the Deep Space Network, or DSN. The DSN consists of three dishes located around the globe that allows NASA to communicate with spacecraft throughout their orbits.
The new OCC offers an opportunity to modernize certain aspects of the Chandra mission as it celebrates its 20th anniversary in space in 2019, with the design taking two decades of experience operating Chandra into account. The new OCC brings all of the operational teams into one space to facilitate collaboration and situational awareness, but uses glass walls and physical separation to manage sound so individual team members can still effectively perform focused technical work. They also created a purpose-built area for our spacecraft simulator, which was an important upgrade that will serve the mission well going forward.
"Chandra has always been at the forefront of exploring the Universe in X-rays," said Chandra X-ray Center Director Belinda Wilkes. "This is a chance to enhance our 20th century, but still unique, state-of-the-art mission in space."
In order to move from the original OCC to the new one, several reviews had to be conducted and passed. In early May, NASA granted approval to operate the new OCC on an interim basis while the original OCC served as a back-up. On May 30th, the final step — called an Operations Readiness Review — occurred and the new OCC became fully operational.
"This is an exciting day for the Chandra mission," said Christopher Eagan, Manager of the OCC. "We are all looking forward to what Chandra will discover next."
While Chandra originally had a nominal 5-year mission, a new contract was signed with NASA to potentially extend its extremely successful operations through 2027.
Disclaimer:
This service is provided as a free forum for registered users. Users' comments do not reflect the views of the Chandra X-ray Center and the Harvard-Smithsonian Center for Astrophysics.
Please note this is a moderated blog. No pornography, spam, profanity or discriminatory remarks are allowed. No personal attacks are allowed. Users should stay on topic to keep it relevant for the readers.
Read the privacy statement