Submitted by

chandra

on Tue, 2021-09-14 11:39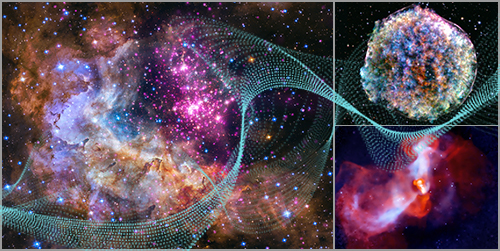 Jingle, Pluck, and Hum: Sounds from Space
Credit: NASA/CXC/SAO/K.Arcand, SYSTEM Sounds (M. Russo, A. Santaguida)
When you travel to a foreign country where they speak a language you do not understand, it is usually imperative that you find a way to translate what is being communicated to you. In some respects, the same can be said about data collected from objects in space.
A telescope like NASA's Chandra X-ray Observatory captures X-rays, which are invisible to the human eye, from sources across the cosmos. This high-energy light gets sent back down to Earth in the form of ones and zeroes. From there, the data are transformed into a variety of different things — from plots to spectra to images.
This last category — images — is arguably what most telescopes are best known for. For most of astronomy's long history, however, most who are blind or visually impaired (BVI) can often not fully experience the wonders that telescopes have captured.
In recent decades, that has begun to change. There are various ways that astronomers, data scientists, astronomy communication professionals, and others can work with communities of different abilities, from creating 3D prints and visual descriptions to sound-based products. As part of the Chandra X-ray Center and NASA's Universe of Learning, a team of experts led by Dr. Kimberly Arcand has been working to "sonify" (turn into sound) data from some of NASA's greatest telescopes.