The Winter 'AstrOlympics' Kick Off
Submitted by

chandra

on Tue, 2018-02-06 11:35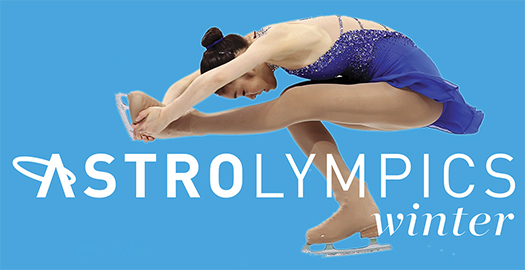 As the athletes get set to compete in Pyeongchang, Korea, the public can explore the Olympic Games in a different way through an innovative project blending science and sports. "AstrOlympics" relates the amazing feats of Olympic athletes with the spectacular phenomena found throughout space.
This project from NASA's Chandra X-ray Observatory highlights the physical connections between sport and space. Examining various topics including speed, distance, time, mass, rotation, and pressure, AstrOlympics explores the impressive range of these different physical properties.
AstrOlympics provides brief explanations of the physical concepts and then compares examples from common every day experiences, Olympic events, and discoveries from space made with Chandra and other observatories. For example, the rotation section compares the spin of an ice skater to that of a washing machine to the rotating of a spinning dead star.
The AstrOlympics project consists of a series of posters, videos, and a website. All of these materials are free to download and use. Science educators may contact the project via the website to request a small number of available hard copies. AstrOlympics will also be distributed through NASA and International Astronomical Union networks.
The 2018 Olympic Games will be held in South Korea between February 9-25.
NASA's Marshall Space Flight Center in Huntsville, Alabama, manages the Chandra program for NASA's Science Mission Directorate in Washington. The Smithsonian Astrophysical Observatory in Cambridge, Massachusetts, controls Chandra's science and flight operations.
All of the AstrOlympics products and materials are available for free download at http://chandra.si.edu/olympics/
More information about the Chandra X-ray Observatory at http://chandra.si.edu/ and http://www.nasa.gov/chandra
Media contacts:
Megan Watzke
Chandra X-ray Center, Cambridge, Mass.
617-496-7998
mwatzke@cfa.harvard.edu
Kimberly Arcand
Chandra X-ray Center, Cambridge, Mass.
617-218-7196
kkowal@cfa.harvard.edu
Disclaimer:
This service is provided as a free forum for registered users. Users' comments do not reflect the views of the Chandra X-ray Center and the Harvard-Smithsonian Center for Astrophysics.
Please note this is a moderated blog. No pornography, spam, profanity or discriminatory remarks are allowed. No personal attacks are allowed. Users should stay on topic to keep it relevant for the readers.
Read the privacy statement