Carnival of Space #328
Submitted by

chandra

on Mon, 2013-11-18 13:42
Welcome to this week's Carnival of Space. It's been a busy Universe out there so let's jump right into it.
The Urban Astronomer has an excellent recap of Hubble's observations of a very unusual asteroid. This asteroid not only has a comet-like tail, it has six of them. Oh yeah, and they apparently change.
Over at the Smithsonian's Air & Space blog, they discuss a very provocative issue: if we go back to the Moon, where should we go and, maybe more importantly, where shouldn't we?
In advance of the recent Maven launch to Mars, the good folks over at Universe Today feature an excellent video that summarizes where the Curiosity rover has been and also where it will be heading in the future.
Here at the Chandra blog, we discuss how the 3D model of the Cassiopeia A supernova remnant is now being featured in an exciting new 3D viewer created by the Smithsonian that was just rolled out last week.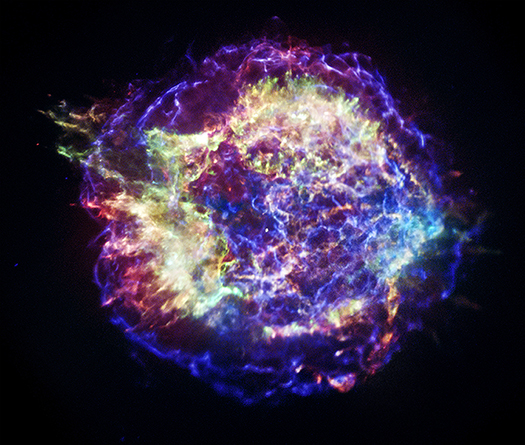 The Here, There, and Everywhere (HTE) project traveled to the Phillips Library in Aurora, Illinois, and you can find out the reaction to the exhibit at the HTE blog.

The stunning new image of Saturn (and Mars, Venus, and the Earth too) is highlighted in this post of the Meridian Journal. Learn more about this image that made the rounds of many news outlets and websites last week.
The Next Big Thing (NBT) looks at current research and testing being done to determine the best ways to bring back sample returns from destinations such as the Moon and asteroids. The NBT also reports that NBC will follow Virgin Galactic's development of SpaceShipTwo and broadcast Richard Branson and his children going into orbit in August 2014.
Stay tuned for more news from our very own Universe.
-Megan Watzke, CXC
Disclaimer:
This service is provided as a free forum for registered users. Users' comments do not reflect the views of the Chandra X-ray Center and the Harvard-Smithsonian Center for Astrophysics.
Please note this is a moderated blog. No pornography, spam, profanity or discriminatory remarks are allowed. No personal attacks are allowed. Users should stay on topic to keep it relevant for the readers.
Read the privacy statement