The Chandra X-ray Observatory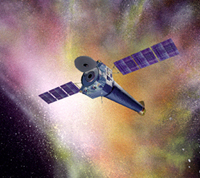 The Chandra X-ray Observatory is the third in NASA's family of Great Observatories that includes the Hubble Space Telescope and the Compton Gamma Ray Observatory. NASA's Marshall Space Flight Center manages the Chandra program. TRW (now NGST) was the prime contractor for the spacecraft. Key subcontractors include Ball Aerospace & Technologies, Inc., Eastman Kodak Company, and Raytheon Optical Systems, Inc. The scientific instruments were built by teams from MIT, Pennsylvania State University, the Smithsonian Astrophysical Observatory, the Laboratory for Space Research in the Netherlands, and the Max Planck Institute in Germany. The Smithsonian's Chandra X-ray Center controls science and flight operations from Cambridge, MA.
Press Kit Contents:
Fact Sheets & Biographies

Fact Sheets

Cassiopeia A
The Chandra X-ray Observatory
Exploring the Invisible universe
Chandra Quick Facts

Biographies

E. Weiler
H. Tananbaum
M. Weisskopf
R. Kirshner




Still Images & Animations/Video

Still Images

Cas A Chandra image
Cas A Optical-X-ray comparison
Cas A Rosat-Chandra comparison
Cas A energy filtered image
PKS 0637-752

Animations/Video

Supernova Explosion (animation)
Chandra deployment (video)
IUS, IPS burns to orbit (animation)
Sunshade door open (animation)
Chandra Light path (animation)
First Light Press Kit in PDF Format
(283 kb)
Watch replays of the Chandra X-ray Observatory First Light Briefing
at NASA Headquarters (requires RealPlayer).