Submitted by

chandra

on Tue, 2020-06-09 09:07
This article appeared on NASA.gov, written by NASA public information officer Elizabeth Landeau, based on a press release from Keck Observatory.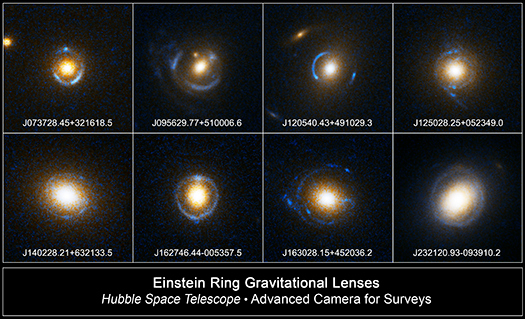 Examples of Einstein ring gravitational lenses taken with the Hubble Space Telescope.
Credit: NASA/ESA/SLACS Survey Team: A. Bolton (Harvard/Smithsonian), S. Burles (MIT), L. Koopmans (Kapteyn), T.Treu (UCSB), L. Moustakas (JPL/Caltech)
Determined to find a needle in a cosmic haystack, a pair of astronomers time traveled through archives of old data from W. M. Keck Observatory on Mauankea in Hawaii and old X-ray data from NASA's Chandra X-ray Observatory to unlock a mystery surrounding a bright, lensed, heavily obscured quasar.
This celestial object, which is an active galaxy emitting brilliant amounts of energy due to a black hole devouring material, is an exciting object in itself. Finding one that is gravitationally lensed, making it appear brighter and larger, is exceptionally exciting. While slightly over 200 lensed unobscured quasars are currently known, the number of lensed obscured quasars discovered is in the single digits. This is because the feeding black hole stirs up gas and dust, cloaking the quasar and making it difficult to detect in visible light surveys.