Submitted by

chandra

on Thu, 2020-11-12 11:17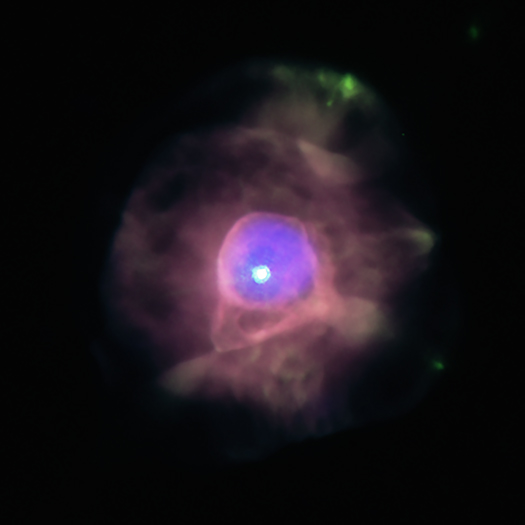 IC 4593
Credit: X-ray: NASA/CXC/Columbia Univ./A. Johnson et al.; Optical: NASA/STScI
On Earth, amethysts can form when gas bubbles in lava cool under the right conditions. In space, a dying star with a mass similar to the Sun is capable of producing a structure on par with the appeal of these beautiful gems.
As stars like the Sun run through their fuel, they cast off their outer layers and the core of the star shrinks. Using NASA's Chandra X-ray Observatory, astronomers have found a bubble of ultra-hot gas at the center of one of these expiring stars, a planetary nebula in our galaxy called IC 4593. At a distance of about 7,800 light years from Earth, IC 4593 is the most distant planetary nebula yet detected with Chandra.
This new image of IC 4593 has X-rays from Chandra in purple, invoking similarities to amethysts found in geodes around the globe. The bubble detected by Chandra is from gas that has been heated to over a million degrees. These high temperatures were likely generated by material that blew away from the shrunken core of the star and crashed into gas that had previously been ejected by the star.