X-Rays Discovered from Young Supernova Remnant
Submitted by

chandra

on Mon, 2012-07-30 17:33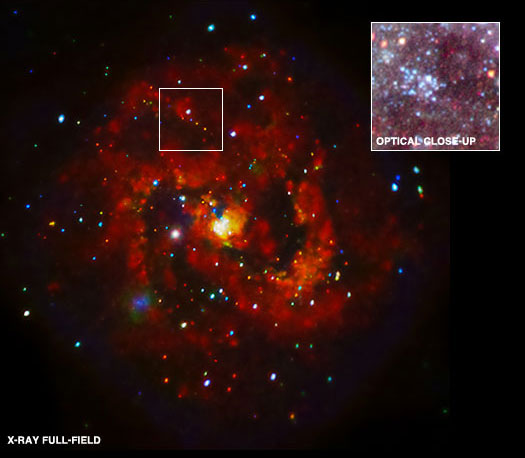 Over fifty years ago, a supernova was discovered in M83, a spiral galaxy about 15 million light years from Earth. Astronomers have used NASA's Chandra X-ray Observatory to make the first detection of X-rays emitted by the debris from this explosion.
Named SN 1957D because it was the fourth supernova to be discovered in the year of 1957, it is one of only a few located outside of the Milky Way galaxy that is detectable, in both radio and optical wavelengths, decades after its explosion was observed. In 1981, astronomers saw the remnant of the exploded star in radio waves, and then in 1987 they detected the remnant at optical wavelengths, years after the light from the explosion itself became undetectable.
A relatively short observation -- about 14 hours long -- from NASA's Chandra X-ray Observatory in 2000 and 2001 did not detect any X-rays from the remnant of SN 1957D. However, a much longer observation obtained in 2010 and 2011, totaling nearly 8 and 1/2 days of Chandra time, did reveal the presence of X-ray emission. The X-ray brightness in 2000 and 2001 was about the same as or lower than in this deep image.
More at http://chandra.harvard.edu/photo/2012/m83sn/
-Megan Watzke, CXC
Disclaimer:
This service is provided as a free forum for registered users. Users' comments do not reflect the views of the Chandra X-ray Center and the Harvard-Smithsonian Center for Astrophysics.
Please note this is a moderated blog. No pornography, spam, profanity or discriminatory remarks are allowed. No personal attacks are allowed. Users should stay on topic to keep it relevant for the readers.
Read the privacy statement