Chandra Finds Evidence for Stellar Cannibalism
Submitted by

chandra

on Tue, 2010-09-14 11:20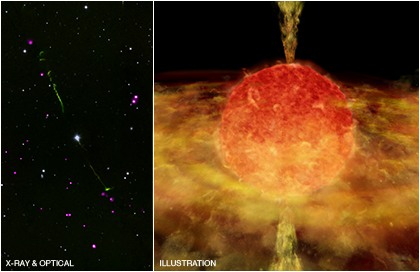 The composite image on the left shows X-ray and optical data for BP Piscium (BP Psc), a more evolved version of our Sun about 1,000 light years from Earth. Chandra X-ray Observatory data are colored in purple, and optical data from the 3-meter Shane telescope at Lick Observatory are shown in orange, green and blue. BP Psc is surrounded by a dusty and gaseous disk and has a pair of jets several light years long blasting out of the system. A close-up view is shown by the artist's impression on the right. For clarity a narrow jet is shown, but the actual jet is probably much wider, extending across the inner regions of the disk. Because of the dusty disk, the star's surface is obscured in optical and near-infrared light. Therefore, the Chandra observation is the first detection of this star in any wavelength.
The disk and the jets, seen distinctly in the optical data, provide evidence for a recent and catastrophic interaction in which BP Psc consumed a nearby star or giant planet. This happened when BP Psc ran out of nuclear fuel and expanded into its "red giant" phase.
http://chandra.harvard.edu/photo/2010/bppsc/
-Megan Watzke, CXC
Disclaimer:
This service is provided as a free forum for registered users. Users' comments do not reflect the views of the Chandra X-ray Center and the Harvard-Smithsonian Center for Astrophysics.
Please note this is a moderated blog. No pornography, spam, profanity or discriminatory remarks are allowed. No personal attacks are allowed. Users should stay on topic to keep it relevant for the readers.
Read the privacy statement